No matter which website you choose to research kangaroo island attractions or things to do there, the beaches on Kangaroo island remain a top choice amongst backpackers and seasoned travellers.
The great thing about Kangaroo Island is in its name; it's an island! No matter which part of the island you decide to visit you will undoubtedly end up at some random, beautiful beach.
And if there's no beach then you have the incredible views of the waters of the Great Australian Bight surrounding you.
Laura and I visited this magical place for a week during our road trip to South Australia earlier this year and fell in love with the incredible beaches and charm of the island.
In fact, one of the best beaches on Kangaroo Island has also been voted as one of the most spectacular beaches anywhere in Australia!
Escape the city lights of Kingscote or Penneshaw and venture out towards the north or south coast of the island and compare the beaches.
Because Kangaroo Island is small, there are but a main few paved roads; the roads that lead you down towards the beaches are generally unpaved, and vary in harshness so be prepared for bumpy rides to the beaches.
Have you got travel insurance? We personally use World Nomads Insurance to ensure we have peace of mind if things go wrong

The Ultimate Guide to 5 Incredible Beaches on Kangaroo Island
Sometimes travelling can get a little overwhelming, and if you're new to a city or country and you have limited time, it can become stressful trying to tick off your whole list of things to do and see.
Which is why we created this guide to help you tick off 5 of the best beaches on Kangaroo Island.
How to get to Kangaroo island
There are but only 2 ways of getting to Kangaroo Island.
The first is by taking a flight from the capital city out of Adelaide Airport using QantasLink, owned and operated by Qantas Airlines.
A short 45-50 minute flight from Adelaide and you will arrive in Kangaroo Island with the rest of your day or night to explore.
The second, and most common method of transport is a ferry crossing using either SeaLink or K.I Connect. Both run 45 minute ferry crossings both ways, the only difference being only SeaLink carries passenger vehicles.
K.I Connect runs a more luxurious and comfortable service however they don't run as often and have a limited passenger capacity than SeaLink.
READ MORE: TAKING THE FERRY TO KANGAROO ISLAND
Regions of Kangaroo Island
All the best beaches on Kangaroo Island are divided amongst 2 separate regions, North Coast and South Coast.
Bear in my Kangaroo Island is divided into 7 different regions:
West End
South Coast
Parndana Districts
North Coast
Kingscote & districts
American River
Penneshaw and Dudley Peninsula
---
Vivonne Bay Kangaroo Island
Regarded by many as the prettiest beach on Kangaroo Island, Vivonne Bay is situated on the south coast region of Kangaroo island, easily accessible via south coast road.
This stunning picturesque beach sits in crystal clear turquoise waters with views over the other side of the bay towards Seal Bay Conservation Park.
A beautiful red, dirt road leads you down the hill towards the beach with amazing views over Vivonne Bay and beyond.
The views from the top of the hill are incredible and form one of many kangaroo island attractions you have to visit!
The Vivonne Bay jetty struts out towards Vivonne Bay Beach which you can also access off Knofel Drive of south coast road.
On a warm sunny day the coral is illuminated under the jetty and displays some awesome snorkelling spots anywhere on the island.
How to get to Vivonne Bay
Getting to one of the best beaches on kangaroo island is easy enough. If you're travelling by car from the main town of Kingscote, head west along Playford hwy and merge onto South Coast road.
Make a left turn down Jetty Road to head towards Vivonne Bay pier, and if you want to go to Vivonne Bay beach then make a left before Jetty road at Knofel Drive.
Laura and I camped overnight in the Vivonne Bay campground which sits at the mouth of the Harriet River.
A beautifully clean and quiet campground that's only a short 15 minute walk down to the jetty.
Prices range from $17-$26 dollars for powered and unpowered sites, depending on the time of year, however it's also the only campground in the area so make sure you reserve a spot in time before spaces fill up!
START FROM THE BEGINNING: 2021 SOUTH AUSTRALIA GUIDE
Stokes Bay Kangaroo Island
This may not look like much when you arrive, but trust us when we say there is definitely a pot of gold on the other side of this rainbow.
Sheltered from the wind, there is a giant rockpool as soon as you enter through the rocks protected from the larger waves that can come through.
A large cliff face protects beach goers from harsh winds and provides shade for half the day, making it one of the most incredible beaches on kangaroo island.
It's also very dog friendly, so if you have your pooch in-tow, don't be afraid to let him off the leash and splash around!
How to get to Stokes Bay
Just don't do what we did! Avoid driving west along North Coast road from Kingscote if your car cannot handle corrugated roads.
Our van had A LOT of difficulty managing the corrugated road all the way to the beach, instead choosing to drive north along the north coast road from Playford highway.
First arriving in the car park at the very top of Stokes Bay Road, follow the signs towards the beach that lead you through a cliff side trek through the mountains you come out the other side onto Stokes Bay.
Best time to Visit Stokes Bay
As with any beaches the best times to photograph beaches are both sunrise and sunset in the golden hours, however if you plan on soaking up the rays of this beach we recommend anytime after 11 so the sun can rise over the cliff face.
RELATED ARTICLE: 15 AMAZING THINGS TO DO ON KANGAROO ISLAND
Emu Bay Kangaroo Island
Our personal favourite of all the beaches on Kangaroo island was Emu Bay.
As we found out, there are in fact no more Emus here, yet anywhere on Kangaroo Island.
European settlement wiped them all out many years ago unfortunately, and Kangaroos have since replaced them!
The best thing about Emu bay beach and why we think it's the best beach on Kangaroo island is that you can drive on it!
This 4.8km stretch of hard white sandy beach is popular with the locals and tourists, and if you stick to the middle of the beach where the sand is hard and firm you can drive your car all the way down right to the end, one of the best kangaroo island activities in our opinion!
The beach is large enough for you to spread yourself out, take out the BBQ and enjoy some quiet time.
This beach does get quite hot during the day so bring an umbrella or shade for when the mercury hits its peak.
On the far western side of the beach is Emu bay Jetty where Kangaroo Island Marine Adventures will pick you up for a day on the water finding pods of Dolphins!
RELATED ARTICLE: SWIMMING WITH DOLPHINS ON KANGAROO ISLAND
Seal bay Kangaroo island
Whilst there is no access to this beach for people, it is inhabited by a large colony of Australian Fur Seals, and it is for this reason that we think it's one of the best beaches on Kangaroo Island!
Seal bay conservation park was our favourite kangaroo island attraction during our stay.
If you feel like getting more intimate with the seals, the park ranges who work here run daily guided tours down the boardwalk of the park and onto the beach where you can get within 10 metres of these giants.
The entire park serves as a protected marine park both from human foot traffic and by protecting the ocean.
A 28km 'no-catch zone' has been set up by the south australian government to increase seal numbers and allow fish stocks to replenish so seals can hunt freely.
How to get to Seal bay Kangaroo Island
Getting here is super simple, there are only two roads you will take.
Driving west along playford highway, look for the signs on the left signalling you to turn down Seal bay road. Follow the road long enough and you will come to a t-intersection where turning right leads you down to Seal Bay, or turning left brings you into one of our next incredible beaches on kangaroo island
Bales beach Kangaroo island
When we visited Bales Bay there was literally nobody else around and we couldn't figure out why.
Some people love to sit on calm, quiet beaches with nothing but gentle crashing waves putting them to sleep. This is not one of those places.
Bales Beach is only a stone's throw from Seal Bay, yet there are no seals here. It just goes to show the innate instinct for seals to congregate in very specific places without venturing too far from home.
Being so close to a major kangaroo island attraction makes it easier to visit both of these beaches all in one day.
Bales Beach Aquatic reserve is part of Seal Bay's marine protected zone, which means no fishing, and no dogs.
There are a number of sandy tracks to follow along the beach where you'll come across some rare and interesting birds & the diverse range of flora and fauna.
Final thoughts on the 5 incredible beaches on Kangaroo island
We hope you enjoyed reading this article, if you have any questions feel free to send us a personal email at hello@chrisandlauratravels.com
Leave a comment below to tell us your favourite beach on Kangaroo island!
PLACES TO STAY ON KANGAROO ISLAND
Accomodation in Kingscote in the largest city on Kangaroo Island
Find your happy place in Vivonne Bay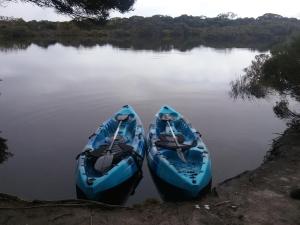 FIND MORE OF OUR ARTICLES BELOW ON SOUTH AUSTRALIA
SAVE IT OR PIN IT FOR LATER !!